One of my very favorite ways to help busy moms and dads is with their kids' stuff. Yes, I work with kids to help them get organized too! Do you feel like your kid's things are taking on a life of their own, and your home is over run with them? Here's some helpful thoughts and ideas to make this part of parenting (and grandparenting) less frustrating and more enjoyable.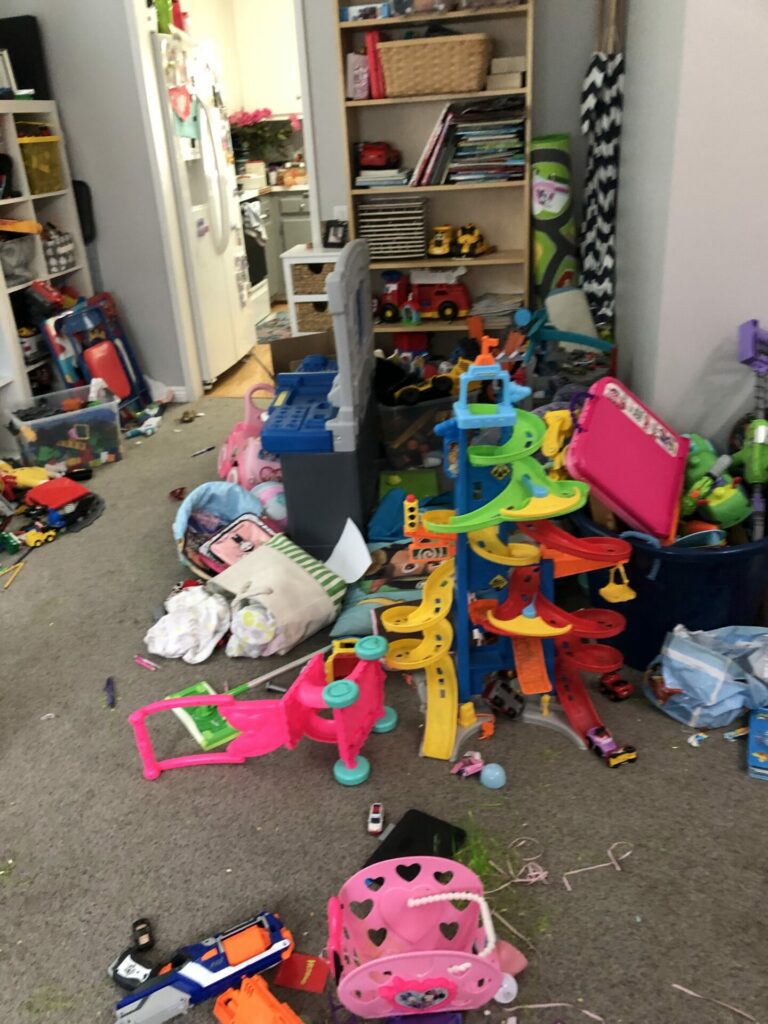 Mr. Rogers taught us that play is the work of childhood. Just like in a parent's job, kids need the tools to learn and grow, and that's what toys are supposed to do. When the space gets so cluttered that they can't find what they need, learning can't take place, they get bored, and it become a mess. More toys is NOT always better.
Every toy needs to have a place to "live". Your child or grandchild needs to know exactly where this place is, otherwise they can't find it to use and play with, and more importantly, they can't put it away when they are done. Being able to find a toy is a big part of learning how to play. If they can't find it, they can't play with it. I ALWAYS teach families (and yes, I teach kids!) how to create ZONES for their "tools". Just like clothing goes in the same place each time, toys can do that too. I teach kids "this is the Lego's zone, this is the puzzle zone, this is the game zone, this is the video game zone, this is the reading corner", etc.
So, where to start?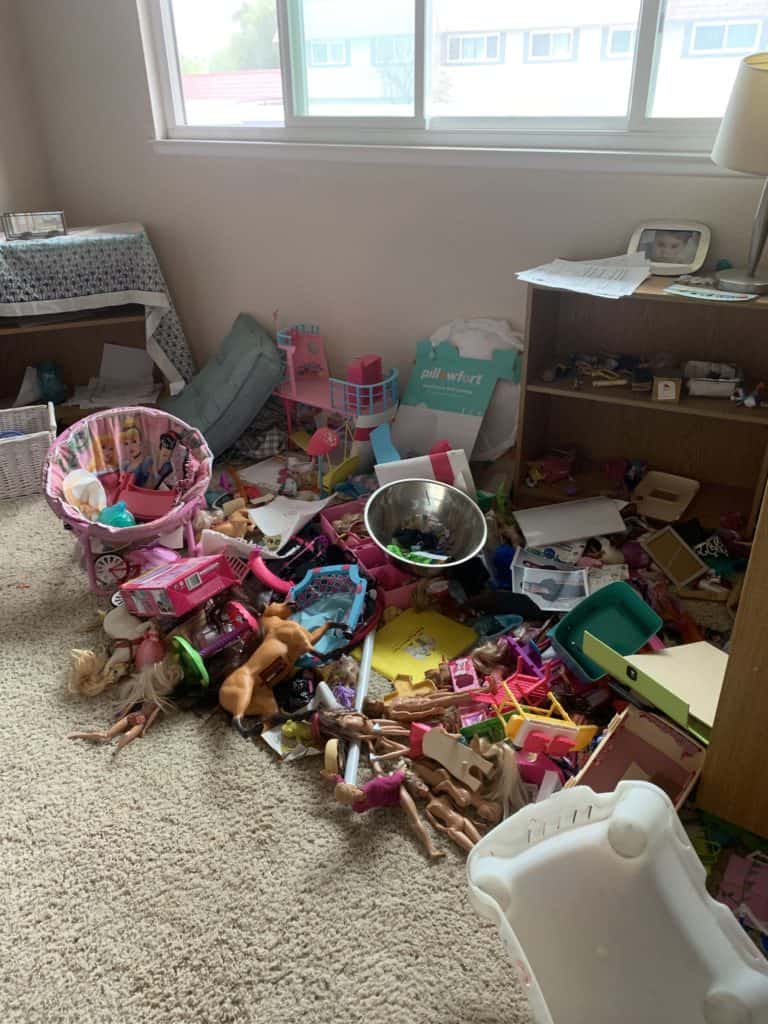 Invest in some books shelves and bins to store toys in. Don't go with super expensive, but don't go with the cheapest you can find either (trust me, they don't hold up). Find an inexpensive but sturdy system that will "grow" with your kids toys and books. I find that clear bins are the best. The cute little fabric bins look attractive but you know what? They become a huge mess because kids can't see what goes where easily and they soon ALL become stuff zones. Clear plastic ones are pretty reasonable at the store and easily replaced if they become broken or worn out. Label them--for smaller kids pictures on the front covered with clear tape work great, and, once again, are easily replaced if need be.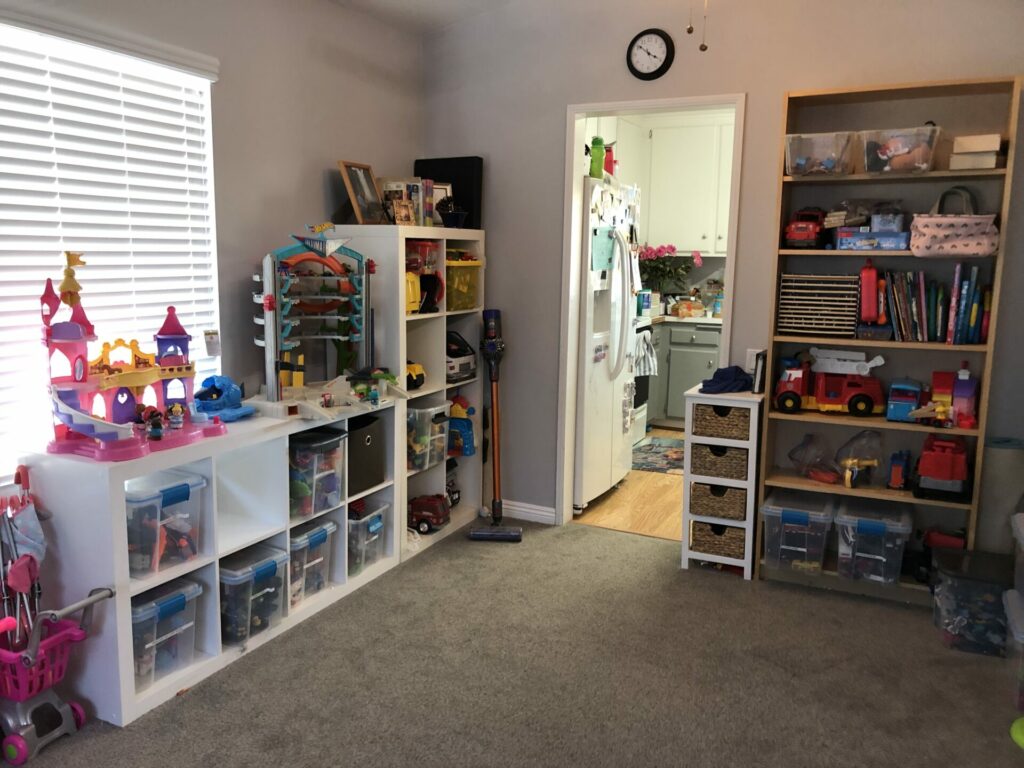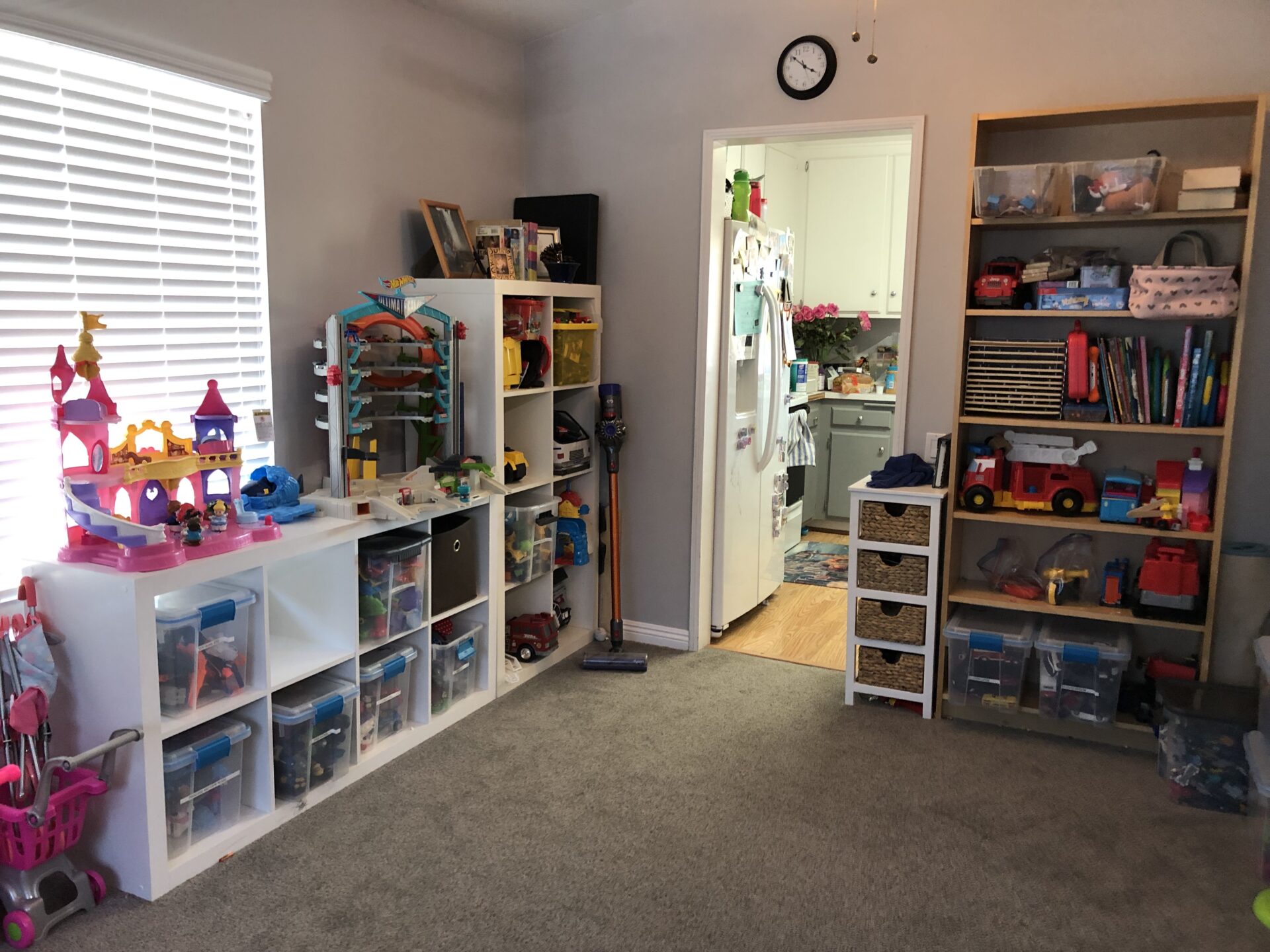 Make sure the toys they play with are the ones easiest to get to. This sounds like common sense but sometimes what works for us as parents doesn't work for the kids. Make their go-to toys and games where they can be easily pulled out and more importantly, put back. A good way to manage this is to ask your kids. And be flexible, as parents you know what they play with this week may or may not be what they want next week. Don't be afraid to re-arrange things regularly.
If a toy is missing a part, broken or breaking, don't be afraid to toss it. A weekly edit of the area can make this task easy managed and not overwhelming. A "missing pieces" bin is a good idea as a temporary step to put things until you can find the proper home for it. If your child is playing with a toy and part of it is missing, they know where to go look for it. After while you can easily figure out what is missing or needs to be found. if you can't, invite it to leave. Also, don't keep toy bins too full or overflowing--they will play with what they can easily get to. If they ave to empty the whole bin out to get what's on the bottom and then put it all back, guess what: they won't.
Grandparents--we gotta love em. But do yours overbuy? Consider rotating your kids toys so that some are always "new". Its so fun for me when I help kids get their rooms in shape and I hear "hey, I forgot I had that!".
Last but not least, make sure your ENTIRE family (dads, moms, babysitters...) know where each "zone" is. I set kids areas up in zones, give the kids a tour, then have them give ME a tour back, then have them go get their parents and give THEM a tour. It makes it fun.
Remember, play is hard work for kids. Let's make it easier for them to find their work tools.