4 years into my life as a professional organizer, and this is STILL what I tell my clients. I wrote this blog title about 3 years ago, and decided it's time to revisit why I decided to start on this journey to help you get a little less chaos, more calm in your home or office. So, let's take a little trip down memory lane, and on the way I might update a few thoughts. BTW: I LOVE it when you comment with thoughts, questions, ideas of your own...please feel free to comment below any time! We are all in this together, right?
I have been so blessed to meet my clients and help them. Along the way I have met and helped young moms that are overwhelmed with kids toys, Kitchens that have expired food going back 10 years, men and women with garages that they are afraid of LOL, teenagers whose rooms and homework environments are unworkable, retired folks that are needing to downsize, young adults on the autism spectrum that need assistance with basic life skills, medical professionals that are too exhausted to cope with their homes, newly married, newly divorced, newly widowed. I've helped a wonderful man who was dying of cancer take the burden of caring for his home off his caregiver so they could spend quality time together. I have helped businesses with supply rooms so overstuffed with--well, supplies---that they couldn't find anything. The one thing in common they all have is they feel stuck or trapped and sometimes even guilty for asking for help. A special client in my life had lost her son at the World Trade Center on 9/11, and she wanted to make sure his memory didn't get lost in the chaos of her home office. I LOVE helping my clients with this! Here is a before and after of her office.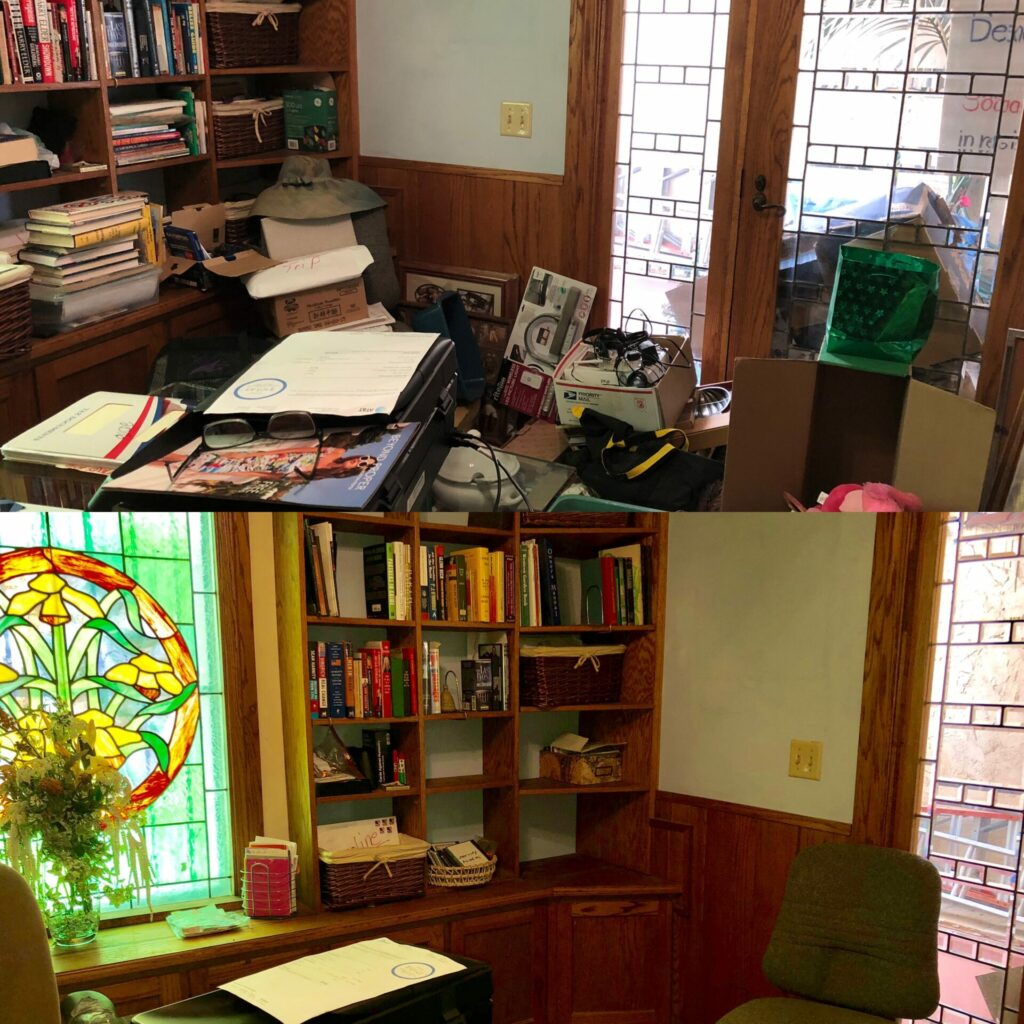 A couple of words or phrases that I don't encourage my clients to use? The first is "hoarder". It seems like I get a lot of that word when people call me. "I'm a hoarder", "My mom/dad is a hoarder". "I just can't seem to quit being a hoarder". Hoarder is is not an adjective. It is a noun. It's a serious, sad disorder, one that is measurable and treatable. Your 25 pairs of tennis shoes doesn't make you a hoarder. Your garage so full that you can't see the back wall doesn't make you a hoarder. A collector, maybe, but not a hoarder. I usually ask clients to send me photos of the area they need help with and very rarely do I encounter an actual hoarder. Please don't use that word when referring to yourself, because it's very rarely true. It's a sad, negative word, and honestly not something to use casually. Unless you are hiding food, have 153 of the same thing, or can't walk across your living room without encountering last year's mail/magazines/clothes on the floor, you are NOT a hoarder. Clutterbug, maybe, but not hoarder. Another phrase I don't encourage my clients to use when they speak with me about their challenges is " I feel so bad, I should be able to do this". Please don't apologize for needing help. This is what I LOVE to do, no apology needed. I tell people I don't cut my own grass, I have someone else do that. There is nothing wrong with that. Being overwhelmed isn't a character flaw, and it's nothing to feel bad about! This client (below) had a spare bedroom that had become storage instead of functional.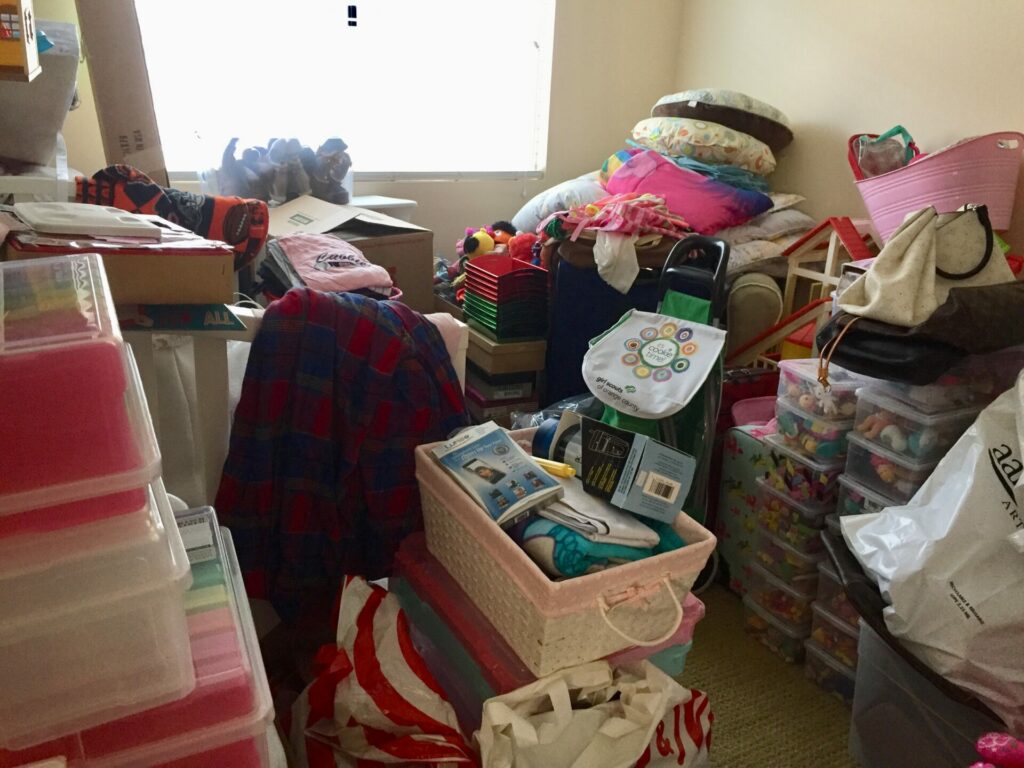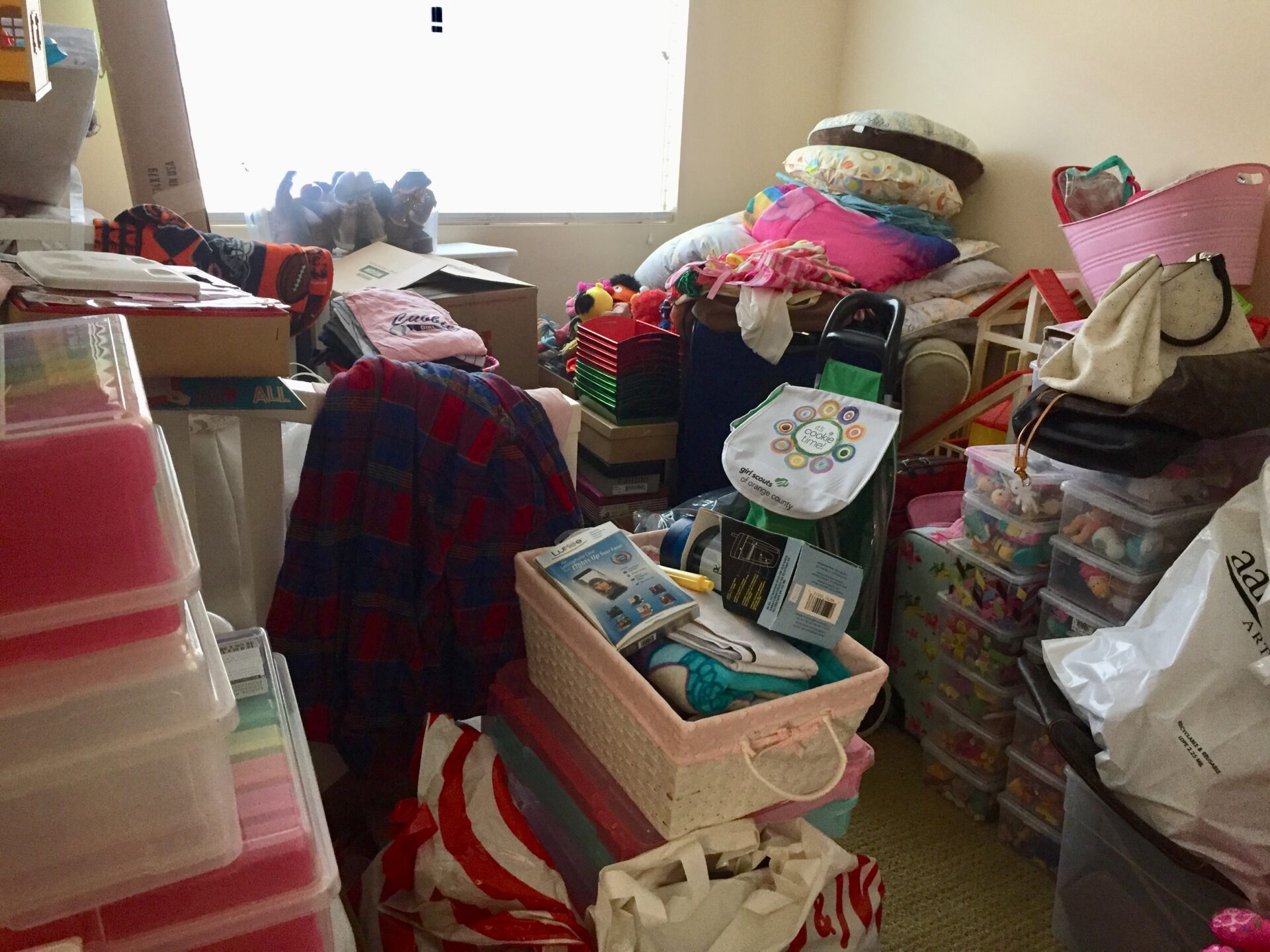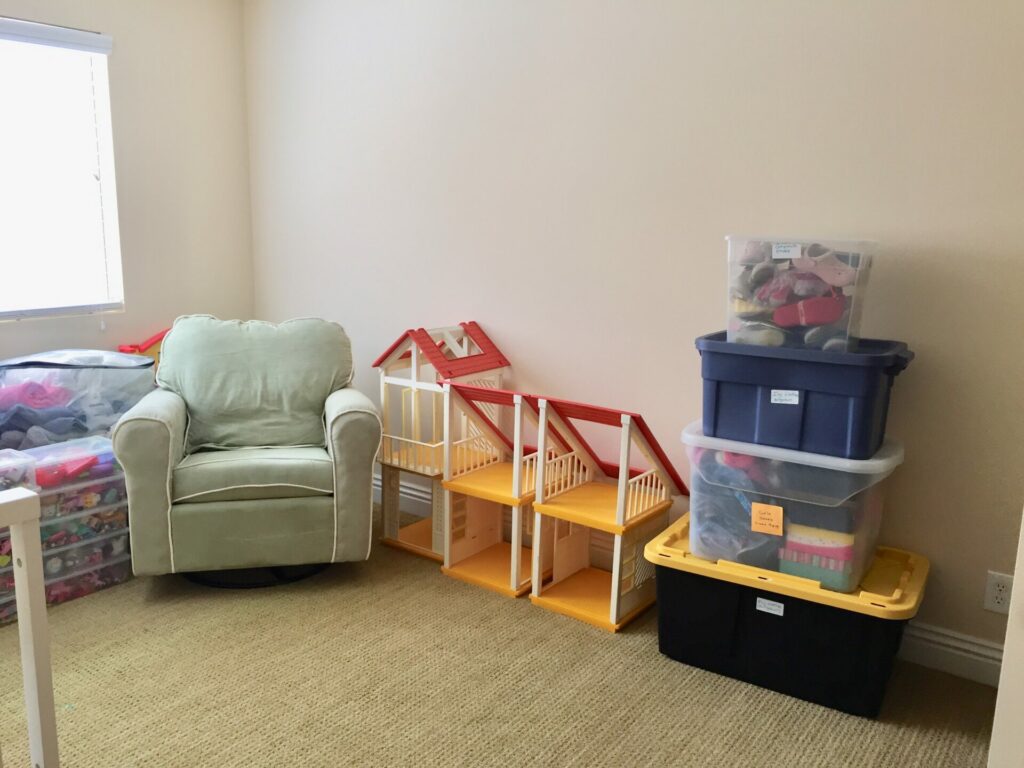 It's important to remember that our life is a journey, not a destination. The same thing with being organized. The concept is a process, it can start anywhere you want it to. It's a growth, not an event. People ask me all the time if my home is perfectly organized. I laugh and tell them, "no we live there...but at least we know for the most part where things need to live so that we can find them.". One of my favorite books of all time on this subject is by Amanda Sullivan : Organized Enough (published by Lifelong Books, available on Amazon). Its not about perfection (who has patience for THAT? not me), but it is about being able to put your hands on your important stuff and more importantly having everyone else in your household being able to know where things need to land. I once had client who missed a transatlantic flight because she couldn't find her passport--it was under her bed.
If you need help getting your space together and designating a place for things, a professional organizer can help you with that. But remember, it's not about the stuff.....